Residential bath and kitchen market outlook
Economic uncertainly leads to new construction downturn; remodel market presents ample opportunity.
It's no secret that the United States housing market has been quite the roller coaster over the past three years. From record-low interest rates and minimal inventory, to rising home prices and now inflation, bath and kitchen professionals have had plenty of challenges and changes to keep an eye on.
In many place across the country, the residential market is already in a downturn. While everyone prepares for a slowdown, it's hard to know just how severe things will get.
Some good news: According to the National Association of Home Builders (NAHB), limited existing inventory combined with solid demand and improving supply chains helped push single-family starts to an 11-month high in May. But single-family housing starts so far in 2023 are still down 24% on a year-to-date basis.
The National Kitchen and Bath Association (NKBA) reports that 2023 kitchen and bath revenue is projected to total $162.4 billion, which is a decrease of 14% from last year. NKBA also states that remodeling will sustain the kitchen and bath industry, as 86% of outstanding mortgages are locked in at rates below 5%, so those homeowners are choosing to remodel rather than to move.
Although high affordability, inflation and the coming recession will keep many potential homeowners from buying homes, the demand for new home inventory — and single family rental properties — still far outweighs the current available inventory, meaning demand for new builds is still high.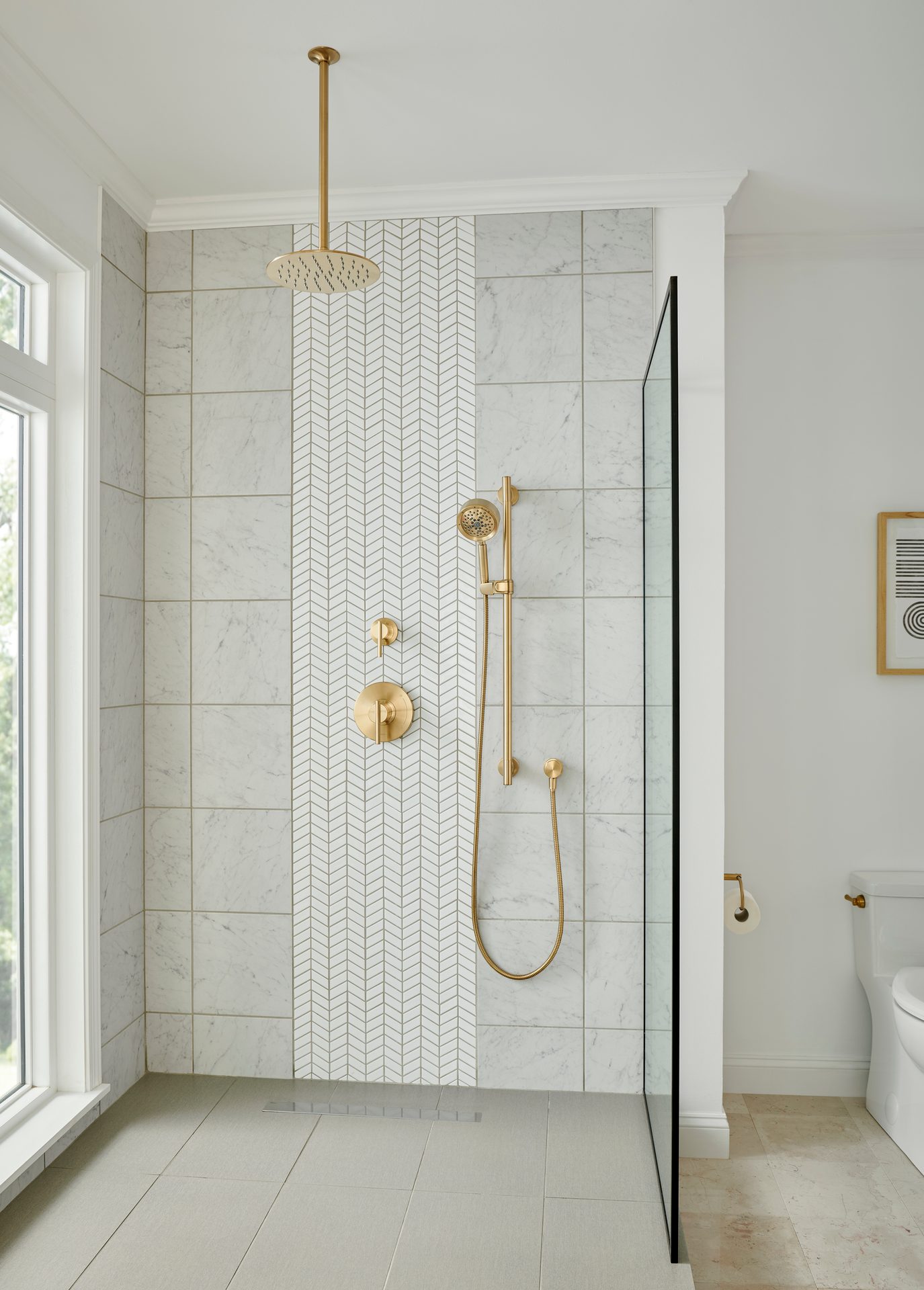 For aging-in-place applications, larger shower areas customized with multiple water outlets are made to ease assistance and accommodate a variety of bather preferences. Shown are Gerber's Parma Handshower Trim Kit with Slidebar and ceiling-mounted Drench Showerhead.
New construction VS. remodel
Inflation has significantly impacted consumer spending and saving habits. The kitchen and bath industry relies on homeowner spend to fuel both the remodel and new construction markets. According to NKBA, even in the wake of economic downturn, many homeowners are still moving forward with remodel plans — especially those plan that were plagued by supply chain disruption in 2021.
Remodel rates aren't expected to be nearly as high as 2021 and 2022, though. NKBA forecasts medium-scale remodels to decline by 18% throughout 2023.
Kevin McJoynt, director of product management, fixtures for Gerber Plumbing Fixtures says there are still mixed signals in the marketplace, making it hard to determine the outlook for residential new construction.
"There continues to be mixed signals regarding the outlook for new residential construction; low home inventory, but high interest rates. Overall, home price increases and high interest rates have resulted in a shift from single family construction to multifamily," he explains. "It stands to reason that remodeling will slow because existing owners did their projects during the COVID-19 pandemic, and younger families are staying in rental units longer. That can always change but, for now, we are cautiously optimistic for the balance of 2023."
Katie Hayes, director of product management, fittings, Gerber Plumbing Fixtures agrees, adding that necessary repairs and aging in place will continue to drive the remodel market. "Increasingly, remodels are driven by necessary repairs, system improvements, or functional needs of homeowners. Specific to the bathroom space, we see a few overarching trends persisting such aging-in-place adaptations, removing tubs and expanding the showering footprint and experience, and adding freestanding tubs to support rest and relaxation."
In Salem, Oregon, Beth Rhoades, president of C&R Remodeling, says the remodeling pace throughout 2023 has been steady. "The pace of 2023 has been consistent with the last few years for production. Calls have slowed down but the overall quality of lead has improved. Job size has maintained as well," she says. "With the interest rates, homeowners are turning back to their current home to look at improvements and long term planning."
McJoynt summarizes that the top challenges hindering new home starts are home prices, interest rates and availability of skilled labor. "Remodeling will follow the eventual rise in new home buying," he says. "Although it's likely that current homeowners who wanted to remodel have largely completed those during the pandemic."
Hayes agrees, but adds that with home prices on the rise, homeowners may choose to continue remodeling their existing home rather than purchase a new home at a higher price and interest rate.
To support relaxation, some are opting for freestanding soaker tubs paired with a floor mount tub filler. Gerber's Floor Mount Tub Fillers are the perfect accompaniment in these applications.
economic indicators & Looking ahead
While the residential market outlook sits in a state of limbo, there are several key economic factors bath and kitchen pros should keep a close eye on.
"Many factors apply, but the few key indicators we watch are interest rates and overall stock market performance; these impact consumers 'perceived wealth,' and unemployment/fear of losing their jobs will prevent some from initiating remodeling projects," McJoynt says.
Just as NKBA notes in its market outlook reports, watching these economic factors will help predict and prepare for consumer buying habits. "Consumer spending is a factor that needs to be considered," Rhoades explains. "Giving clients the options rather than limited cost flexibility goes a long way in building trust. Showing empathy and relating to the large price increases over the last few years is important."
Rhoades adds that job scale is directly impacted by economic factors and customer spending. "When things start to get a bit tight financially, homeowners still want to do updates. However, there are elements that must stay to get to the lower pricing for a job. Cosmetic updates and pull-and-replace jobs are typically on the rise when things become more expensive."
It's difficult to predict exactly what the Federal Reserve System will do to interest rates, but economists predict we won't see much decrease until 2024 or even later. The U.S. News and World Report states that, "While it's quite possible for median home prices to fall another 5% in 2024 if mortgage rates decline faster than predicted, that could mean home prices remain mostly flat through the end of 2024. However, if real incomes rise faster than inflation, the combination of that extra purchasing power plus lower mortgage rates would boost affordability, home sales and prices."
ABOUT THE AUTHOR
Natalie Forster is chief editor for Supply House Times.
Photos courtesy of Gerber Plumbing Fixtures. Video courtesy of getty images / tulcarion.